Die Punkrock/ Hardcore/ Rock / Ska Band ARGIES stellen demnächst ein neues Album vor und gehen damit direkt auf Europatour!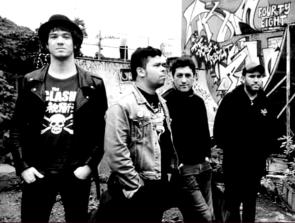 ARGIES / EUROTOUR 2016

30.06. D- Bochum "WagenI"
01.07. D- Hamburg "Menschenzoo"
02.07. D- Torgau "Brückenkopf"
03.07. D- Glauchau "ClubKino"
04.07. D- Leipzig "Kulturcafe Manfred"
05.07. D- Dresden "ChemieFabrik"
06.07. D- Chemnitz "Subway to Peter"
07.07. D- Nürnberg "KV"
08.07. D- Berlin "Wild at Heart"
09.07. D- Zwickau "Störfaktor Festival"
10.07. D- Burglengenfeld "JuzBul"
11.07. A- Vienna "Arena Beisl"
13.07. CZ- Prague "Cross Club"
14.07. D- Landshut "Lebowski" ACOUSTIC SHOW
15.07. D- Münich "Glockenbachwerkstatt"
16.07. D- Coburg "Outside Rodeo Festival"
17.07. D- Essen "Freak Show"
19.07. D- Köln "MTC" + The Sins of my Youth"
20.07. D- Mainz "Haus Mainusch"
21.07. A- Innsbruck "PMK"
22.07. D- Schwäbisch Gmünd "Esperanza 15 years Festival"
23.07. CH- Davos "Box"
24.07. I- Vizzolo Predabissi (Milano) "Festa di Fronte Popolare"
25.07. CH- Zürich "Gotthardbar" ACOUSTIC SHOW
26.07. CH- Ins "Schüxenhaus"
27.07. D- Tübingen "Münzgasse 13"
28.07. D- Stuttgart "Goldmark"
29 07. D- Darmstadt "Oetinger Villa"
30.07. D- Düsseldorf "Haus der Jugend"
31.07. D- Meschede "Tröte Rock Kneipe"
03.08. UK- Shoreham "Duke of Wellington"
04.08. UK- Hastings "The Union Bar"
05.08. UK- Blackpool "Rebellion Festival" ELECTRIC SHOW
06.08. UK- Blackpool "Rebellion Festival" ACOUSTIC SHOW
12.08. D- Grindau "HeimatZoo Festival"